Transport
Loch Fyne Ferry Buses Horses Trains
Around the township the main means of transport was on foot.
However it has been noted by the agricultural historian for Auchindrain that there are a remarkable number of stalls for horses, more than one might expect for the simple farming activities. Although we have never had anyone described as a carter in the census, it is possible that the useful location and the numbers of able men, led to a natural diversion of "being useful" with a cart to ferry goods from Furnace and other parts of Loch Fyne to the communities around.
The farming was all done by hand and by horse, until the very last couple of years when Edward McCallum 1894 - 1979 bought a wee grey Fergie.
This was sold when the tenancy was given up, but was bought by another ex Auchindrain family and worked at St Catherines for many a year.
After that it was sold on, and it's whereabouts was lost for some time. In 2012 it was found again, and with funding from National Fund for Acquisitions, a Scottish Government fund administered by the Trustees of the National Museums of Scotland. and the Friends of Auchindrain it was returned. The same benefactors also enabled the complete restoration of the tractor in 2013, which is now back to being a useful member of the Township workforce.


need to create a transport gallery on flickr and add thumbnails here
In the 1920's one of our descendant families visited the area and hired a car… it was a BUICK !! something like this …
Does anyone have any idea who was hiring it? or have any other stories like this ?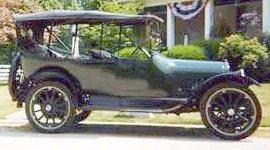 page revision: 4, last edited: 13 Feb 2014 14:23